NATURE AND CITY LIFE
Experience Oslo in winter and summer.
Oslo offers much versatility, where an exciting urban life and cozy shopping combined with a beautiful scenery and skiing opportunities, makes the city a perfect holiday destination for the entire family.
Oslo is Norway's capital city, largest city and a truly green city. The 575,000 people have nature and mountains, just outside the door for hiking and sailing during the summer and skiing during the winter - tourists have the same opportunities to experience Oslo in both green and white. With Trikken (tram) from Sentralstasjonen midtown you can in no time be in Nordmarka - 'Oslo tag'. You can enjoy Oslo's nature at all times of the year.
Oslo has attractions for everyone. There is a huge range of restaurants and an exciting, varied nightlife. The city's waterfront is great. You will find restaurants and shops at Aker Brygge, boats and old sailing ships at the dock. Among the many green oases in Oslo, you see Vigeland Park with sculptures in granite, iron and bronze - it is something special.
By the waterfront you see the beautiful Opera House in all its magnificence. It has received numerous awards for its unique architecture. From the roof you can enjoy the view of the city. Here you can see Oslo Fjord to the Museum Island Bygdøy with the Norwegian Folk Museum. It is a huge open-air museum with 170 old houses from all over Norway. In addition, you can also visit the viking ship museum, Fram Museum, with polar ship "Fram" and Thor Heyredal's Kon-Tiki Museum.
Links:
Plan your travel
Travel to Oslo
M
T
W
T
F
S
S
All year
Shopping in Karl Johan Gate
Karl Johans Gate is Oslo's main street, which runs through the center of Oslo. Here you find a lot of shops and also a few malls. Oslo also has a lot of charming cafés and restaurants, and some of them you will find in Karl Johans Gate.
Also visit the charming and small shopping center, Bærums Verk, located 20-30 minutes outside of downtown Oslo. Here you will find about 50 shops, restaurants, galleries, crafts and workshops.
Oslo has attractions for everyone. There is a huge range of restaurants and an exciting, varied nightlife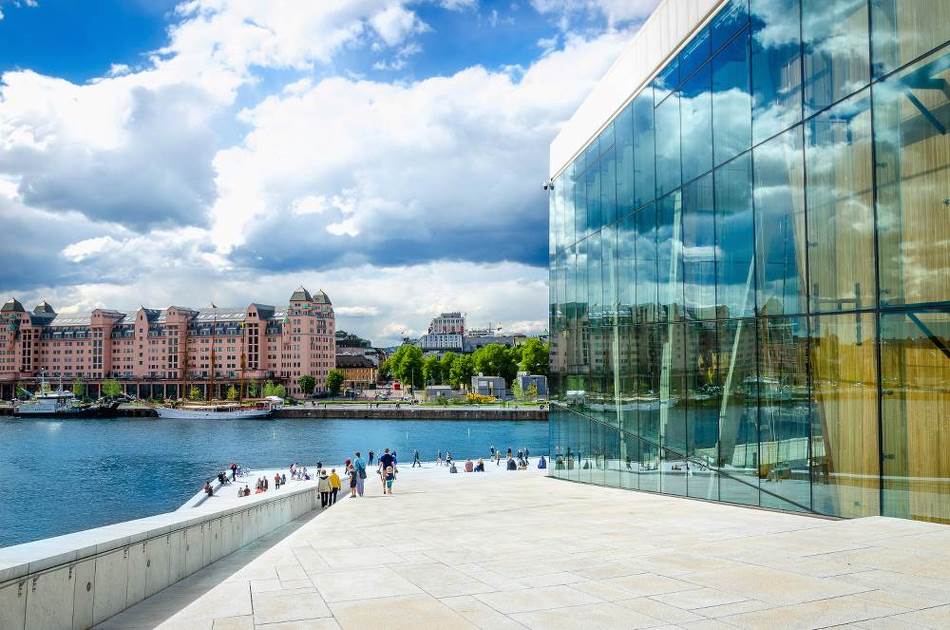 The duty-free ration
People talk much about the high Norwegian price level, but it is approaching, gradually, the same level as the Danish. Only cigarettes, beer, wine and strong drink taxed heavily, but since Norway is outside the EU, you can buy duty-free items in the DutyFree shop at Aalborg Airport and save money.