Direct Parking
It is not possible to book a parking space at Direct Parking in advance, but it is never necessary as parking is always available.
You can pay for your parking online on your mobile phone via the airport's homepage.
Just follow the steps through the Sesam Sesam payment solution.
When you arrive at Aalborg Airport and leave the bagage claim area (arrival area), you will find the airport's payment machines, where you can pay your parking fee.
After payment, you will have 90 minutes to leave the parking area.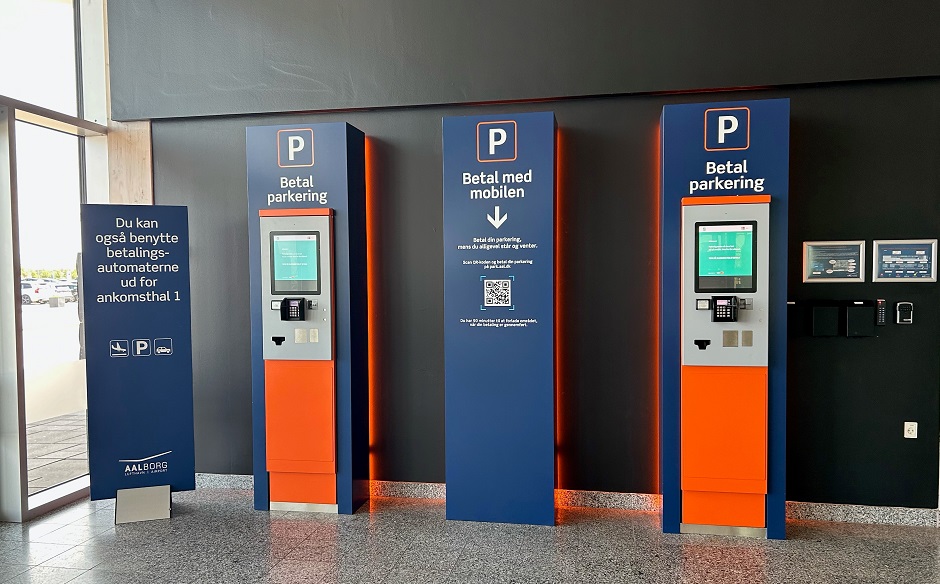 In Aalborg Airport's Economy Parking area, you can use the EasyPark app to register and pay for your parking - based on the conditions EasyPark has for using their service, including fees per parking at a maximum of DKK 19 (regardless of the parking time).
Once you have the app installed on your Android or iOS phone, you can either choose to activate automatic camera parking or disable it, so you have to manually enter to start your parking. With automatic camera parking, you don't have to do anything other than drive in and out of the area - your parking is started automatically when you drive through the barrier and ends when you drive out through the barrier again. Payment is then made automatically via the desired form of payment.
Activate an EasyPark user by entering mobile number, number plate and payment information.
FIND AND DOWNLOAD THE EASYPARK-APP
Prices for Direct Parking
| Period | Price |
| --- | --- |
| First hour: | Free |
| Each hour: | 29 kr. |
| Each day: | 89 kr. |
| Each week: | 399 kr. |
| 14 days: | 599 kr. |
| Season pass: | 3000 kr. (2400 kr. + moms) |
Order annual access to Direct Parking here:
At Aalborg Airport's Direct Parking area, your plate is automatically registered at entry and exit, but instead of paying for each individual parking you make during a year, you can order an annual pass for DKK 2,400 excl. VAT. Therefore you have unlimited parking in Direct Parking for a fixed annual price. You order your annual pass via the form below, after which you will receive a receipt and an email from the airport's partner Sesam Sesam Denmark within 2 working days.
Through this, you must:
Create and activate a Sesam Sesam account via link in email
Access Sesam Sesam's online platform
Add up to two license plates to have parking access (Note: The agreement gives access to one car at a time in Direct Parking. Car number 2 will therefore transfer to general hourly parking).
Once you have successfully created a profile and added your plate number, you will have unlimited access to Direct Parking and will receive an invoice by mail.
When ordering annual access to Direct Parking, your personal data is treated confidentially based on our current personal data policy.
Overview of parking area